How Innovative Warehousing Solutions Can Save Time and Money for Retailers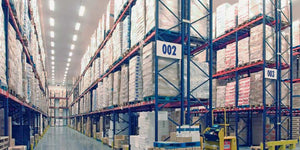 As a retailer, your business relies on a lot of important operational supplies. But the catch is that they can be costly and, since they're not directly tied to generating revenue, it can be all too easy for them to fall by the wayside.
But having these key products, such as poly mailers, retail bags, money processing tools, or receipt paper on-hand in the right quantities at the right time is critical for the smooth operation of your retail business.
By turning your inventory management of these items into a well-oiled machine, you can save both time and money.
And at Northern Speciality Supplies, our innovative warehousing solutions can help you do just that.
Here's how.
Consolidate Your Needs Under One Roof
Stocking and storage of these key operational necessities is a costly and time-consuming undertaking. And what makes it even worse is that many retailers get stuck having to juggle multiple suppliers, each with their own timelines and nuances.
On the other hand, implementing consolidated ordering from a single supplier like Northern Specialty Supplies can streamline the management, ordering, and storage of these items to save time, money, and energy.
Benefit from Economies of Scale
Many retailers are forced to place small orders of key operational supplies because they don't have space to store a high volume of these products. This, in turn, drives the price per order up given that they can't capitalize on economies of scale.
But at Northern Specialty Supplies, we offer innovative warehousing solutions that allow retailers to order higher volumes and benefit from economies of scale without the need to store the items on-site.
Instead, we'll warehouse your items for you so that they're ready when you need them.
That way, you can order a higher quantity of products and take advantage of reduced rates.
Avoid Running Out of Operational Supplies Ever Again
Let's be honest. As a retailer, you're constantly juggling things like managing your inventory of revenue-generating products, ensuring your store is COVID-safe, managing your eCommerce platforms, looking after staff, and countless other important tasks each and every single day.
So, nobody would be shocked if ordering a restock of retail bags slipped your mind.
But the reality is that running out of bags is less than ideal. After all, your customers will need a way to carry home the goods they purchase from you. Plus, your bags also offer a great branding opportunity.
With our warehousing solutions, you'll have a back-up stock of your key items available on-demand so that you don't have to worry about ordering a brand new run and dealing with production times holding you up.
Reduce Delivery Timelines
The benefits of our warehousing solutions extend beyond just the cost-savings and reduced production times.
We know that time is of the essence for you and we've made delivery speed a key priority for our company.
In fact, 62% of the Canadian population is within a one- to two-day shipping window of our facility.
So, we take the guesswork out of delivery time to ensure you receive your order with a minimal turnaround window and can continue with business as usual.
Free Up Valuable Square Footage
As a retailer, any spare space you have should be reserved for revenue-generating items. Receipt paper is a vital part of your business operations, but it certainly doesn't qualify as a money-maker.
So, rather than keeping an excess of operational supplies on-hand, our warehousing solutions mean you can dedicate that space to your core products–the ones that make you money.
Turn Your Inventory into Stock Items to Reduce Back-and-Forth
Don't waste time with back-and-forth. Our online ordering platform features built-in custom pricing and tailoring capabilities, which allow you to facilitate multiple ship-to addresses and multi-location fulfillment within a single order.
And our Vendor Managed Inventory system allows you to turn your custom products into stock Northern Specialty Supplies items. These items can be held at our facility as inventory or shipped to your multiple locations to eliminate the need for you to worry about ordering in bulk and handling distribution yourself.
You don't need to expend a surplus of valuable time or resources on keeping your operational supplies stocked up. With our innovative warehousing solutions, you can save a ton of time, money, and stress.
If you'd like to learn more about our warehousing solutions, get in touch with us today. Our team is here to help!
---