5 Ways Retailers Can Adapt Brand Experience During the COVID-19 Pandemic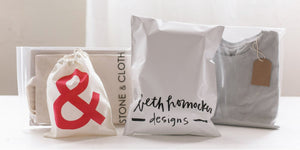 The retail industry has taken a heavy hit since the COVID-19 pandemic started. For many, this has happened because storefronts have been forced to close indefinitely (leading to many being closed permanently). For others, the pandemic has exacerbated existing issues with their businesses.
Either way, a ton of retailers have been forced to refocus on eCommerce efforts rather than brick-and-mortar operations.
But this has brought a new challenge: how to adapt and maintain a strong brand experience without the in-person engagement of a bricks-and-mortar store.
Luckily, there are steps you can take as a retailer to protect your brand experience.
But first…
What is Brand Experience?
Brand experience refers to a type of experiential marketing that companies use in order to influence the way customers perceive them.
This can include everything from the design of their retail stores to logos, slogans, colour schemes, promotions, packaging, and more.
Brand experience is important because it helps create a connection and build trust between your customer and your brand.
During the pandemic, when your touchpoints with customers are limited, maintaining a strong brand experience can be challenging.
But not impossible.
5 Ways to Keep a Strong Brand Experience During the COVID-19 Pandemic
Ensuring your brand experience remains strong during and after the pandemic will require some understanding, care, and creativity in finding and implementing new ways of doing things.
1. Create Virtual Connection Opportunities
While you might not be able to see your customers in-person, it's important to find ways to create opportunities for virtual connection.
For instance, clothing brand Ralph Lauren created shoppable Bitmojis in partnership with Snapchat that allow customers to create animated avatars of themselves and then virtually "try on" clothes before they buy them.
While this is an example of a very costly and large-scale way of creating virtual connection opportunities, it shows the importance of taking an in-person experience with your brand and making it digital for your customers.
It's important to find ways to take the in-person experience online.
2. Optimize Your Online Presence to be Mobile-Friendly
Mobile usage has skyrocketed during the pandemic, with 70% of people saying they've increased the amount of time they spend online.
This means that smartphones are being used more prevalently to shop for retail items.
So, it's important to make sure your online presence is mobile-friendly so that people can seamlessly shop your products online.
3. Stay in Contact with Your Customers
Just because you're not seeing your customers in person doesn't mean you can't stay in contact with them.
It's important to not only remain actively in contact with your customers but to become even more so.
And it's important to stay in contact with them in the places where they are – when it's social media, with blog posts, and with marketing emails and newsletters.
But remember that you shouldn't communicate frivolously. Make sure your communications offer them value and support what your brand stands for.
Avoid contacting them with things they won't find relevant because it may end up being offputting.
4. Show That You Care
Studies have shown that companies that provide an emotional connection with customers outperform the sales growth of their competitors by 85%. And what's more is that 71% of people say that if they perceive that a brand is putting profit over people, they'll lose trust in that brand.
This holds especially true during the pandemic, where so many people have been negatively impacted. But this sentiment can also extend to other challenges facing the world as well.
So, it's important to listen, learn, and evolve with empathy.
Whether it's seeking opportunities to give back to those in need, standing behind a cause, movement, or organization, or reducing your environmental footprint (such as using eco-friendly products like the Earth Keeperbag), showing that you care will contribute to a strong brand experience.
5. Realize the Brand Power in Your Packaging
If you've found yourself moving from bricks-and-mortar to eCommerce or seen an uptick in your online sales, remember the power your packaging has in communicating your brand experience.
For instance, if you're shipping merchandise or apparel, what kind of packaging are you shipping it in? Is it something plain and unimaginative, or is it something that reflects your brand?
With our poly mailers, you can fully customize your packaging to help create that brand experience for your customers and get them excited about receiving your products.
This includes:
Colours (up to full 4-colour print process)
Images
Logos and branding
Customizable fields
Sizes
And if there's a possibility your customers might need to return a product, our poly mailers re also tear-resistant and have double seals with perforations that make packaging and repackaging items exceptionally easy.
If you'd like to learn more about how you can customize your shipping packaging with our poly mailers, or if you'd like an obligation-free quote, get in touch with us today. Our team is here to help!
---