How We Make Sure You Get the Perfect Poly Mailer Every Time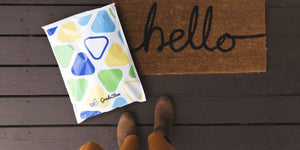 Poly mailers have become a turnkey item in the world of retail, and for good reason: they're quite possibly the most efficient, cost-effective, and safe way to send products by courier or mail.
And since the onset of the COVID-19 pandemic, the volume of parcels shipped around the world has skyrocketed.
But those aren't the only reasons why poly mailers are a staple in every retailer's repertoire. They're also an important marketing tool that allows retailers to communicate their brand with every package shipped.
So, given how vital of an item poly mailers have become, how can you be sure you're going to get the perfect one for your needs every time?
At Northern Specialty Supplies, we have a careful process in place with every order we produce to make sure you get the exact poly mailers you want, every time.
Here's how.
We Offer Complete Customizability
First and foremost, you'll never have to compromise on having your poly mailers your way.
That's because we offer comprehensive customizability which can be tailored in a number of ways, including:
Colours (up to full 4-colour print process)
Images
Logos and branding
Customizable fields
Sizes
Our Poly Mailers Are Top-of-the-Line
Our poly mailers are affordable and can be purchased in small run sizes, but that doesn't mean you'll need to compromise on quality.
Our mailers include premium features, such as:
Double seals so your poly mailers won't open in transit
Tough and durable material that stands up to the elements and ensures your items arrive exactly as they were shipped
Clear outside pockets
We offer only the highest-quality poly mailers, so you'll never be disappointed by the final product.
You'll See Your Mailers in a Digital Format First
Before we ever produce a single poly mailer for you, we'll provide you with a digital proof version to review and sign-off on.
This way, you'll be able to ensure that every facet of your mailer meets your exact specifications and standards before we ever go to production.
And most importantly, you'll get peace of mind that you're getting the final product you want, exactly as you ordered it.
We Have Eco-Friendly Alternatives
We know that many brands are passionate about reducing their carbon footprint. And with such a high volume of mailers being distributed globally these days, many businesses want alternative material options to traditional poly mailers.
And we heard these brands loud and clear. That's why we created the Earth Keeperbag to meet these demands.
Our Earthkeeper Bags are:
Made from 100% post-consumer content
Completely biodegradable
Weather-resistant
Complete with all of the benefits and customization options of our traditional poly mailers
Earthkeeper Bags give you everything you need from a functionality and esthetic perspective while allowing you to reduce your company's impact on the environment.
We Stand Behind Our Products
You can trust that any poly mailer you purchase from Northern Specialty Supplies will be exactly what you ordered, every time. All goods we sell are warranted to be of high quality, free of defect, and packaged according to quotation, and any defective or damaged goods will be replaced free of charge.
At Northern Specialty Supplies, our priority to ensure you get the exact mailers you want, tailored to your exact specifications, every time.
If you'd like to learn more about our poly mailers and Earth Keeperbag, Get in touch with us today. Our team is here to help!
---