How Great Packaging Can Make Your Products Feel Even More Valuable to Your Customers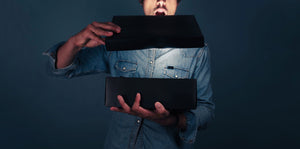 Have you ever wondered why people will choose to buy Nike running shoes over other brands, even if they cost significantly more? Or why people will spend more of their hard-earned money on a Starbucks coffee than on a less expensive competitor?
In many cases, it all comes down to perceived value: the customers' evaluation of the merits of a product or service, and its ability to meet their needs and expectations, especially in comparison with its peers.
Or, in other words, how much more are they willing to spend on a brand they prefer, and why?
And while there are a ton of factors that contribute to the science of creating and leveraging perceived value, online retailers can take small, simple steps to help increase that sense of value for your customers–starting with your product shipping materials.
The Measurable Impact of Product Packaging on Consumer Perception
Just how powerful is product packaging when it comes to creating perceived value? According to a study conducted by Pregis, it's pretty powerful! The study, which surveyed the effects of premium versus economy packaging on consumers, found that:
Premium packaging garnered a 19% higher trust score than economy packaging
People were 15% more excited to receive a premium package than an economy one
Those who received a premium package displayed 5% more joy in their purchase
There was a 45% increase in perceived value created by premium packaging
People were 15% more likely to gift a product to a friend or family member if it arrived in premium packaging
When you look at the numbers, it becomes clear just how important it is to give careful consideration to your product packaging.
How You Can Give Your Packaging a Premium Feel
If you're looking for ways to elevate the look and feel of your shipping packaging.
Incorporate the Right Design Elements
The truth is that a plain old box or poly mailer just doesn't cut it anymore. If you want to give your shipping packaging a premium feel, you need to consider some important design elements, including:
Your logo, brand colours, and fonts
Statements and verbiage
Social media information
Images
Company information
Social media information
For your packaging to create a sense of perceived value, it's vital that its design is thoughtful, stylish, and conveys that careful consideration was given to it. It may even be worth hiring a professional to develop your mailers for you.
To find out more about how to optimize the design of your shipping materials, check out these nine things to consider when designing your poly mailers.
Create an Unboxing Experience
When you ship a product to your customers, you can create perceived value and extend their excitement around the purchase by making the act of opening that package an experience unto itself.
This can include:
Branding your mailers
Using unique packaging materials
Giving careful consideration to your product presentation
If you'd like to learn more, we wrote an article that explores how you can use your mailers to create an unboxing experience.
Use Eco-Friendly Materials
For customers who believe in the value of reducing their carbon footprint, eco-friendly materials, like our Earth Keeperbag, can increase your product's perceived value by demonstrating your commitment to investing in sustainability.
When it comes to increasing the perceived value of your products and your business, your packaging and shipping materials are an important and impactful extension of your brand. They're a powerful way to build those vital bonds with your customers that drive repeat business and referrals.
If you'd like to learn more about your options for customizing your mailers, get in touch with us today.
---