3 Key Considerations for Coin Processors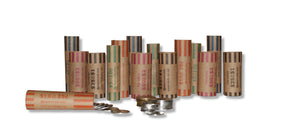 If you operate a business which frequently handles cash, you're probably all too familiar with the struggle of painstakingly counting and rolling coins by hand. It's a time-consuming endeavor – but sadly, it's a reality. And it's also a must if you want to deposit that change into the bank.
But the good news is that there are simple, efficient, and cost-effective solutions available to help make this time-killer a little bit less cumbersome. Here are 3 must-know tips to help make your life a little bit easier.
You Need to Know What You Need
To pick the right solutions, it's key to understand exactly what you need. There's no sense spending money buying something that's more than what you need. And on the flip side of that coin, you may be missing out on efficiencies if you're not utilizing adequate tools. When you start shopping for coin wraps, rollers, and sorters, take a look at the volume of coins you handle and categorize your business as one of the following:
High-Volume: Businesses like banks, credit unions, car wash/laundromat chains, vending machine/refreshment companies, charities, and airlines which collect cash donations, or armored cars would fall into this category.
Mid-Volume: Smaller-scale carwashes, churches, convenience stores, retail stores, restaurants and bars, and vending companies would typically be considered mid-volume
Low-Volume: If you handle very small amounts of coins, and need to deposit them very infrequently, then your business would fall under the low-volume category. This could apply to things like online businesses, delivery services, or transportation services such as taxi drivers.
Decide Which Solutions Fit Your Needs
There are a ton of coin sorters, rollers, and wraps available on the market and, as we know, it's important to make sure you're picking the right ones. To help you make the right choice, we've outlined our favourite options and their optimal use-cases.
Automatic Coin Wrap: For high-volume users, we recommend automatic coin sorters and wrappers. These large-scale, standalone machines automatically sort massive volumes of coins and roll them using special automatic coin wrap rolls made of high-performance paper. At Northern Specialty Supplies, we are proud to offer high-quality coin wraps which release substantially less lint during the sorting and rolling process than typical wraps. This, in turn, lowers maintenance requirements and preserves the life of your equipment by minimizing wear and tear on the crimp hook.
Desktop Sorters and Crimped Coin Wrappers: For mid-volume businesses, consider looking into crimped coin wrappers. These wrappers, which come in a range of sizes for various denominations, are crimped on one end for easier handling and come in nested packaging to help reduce costs and save space. They are a perfect fit for desktop coin sorters, which can handle 2,000 coins at a time and sort at a rate of 300 coins per minute. Desktop sorters and crimped coin wrappers eliminate hassle by allowing you to simply dump in assorted coins and walk away with organized rolls.
Flat Tubular Coin Wrappers: If you're handling a low volume of coins, then it's most likely not worthwhile to spend funds on equipment and high-end rolls. Instead, you might want to opt for flat tubular coin wrappers and manually wrapping currency. At Northern Specialty Supplies, we offer high-quality flat tubular coin wrappers made from natural kraft paper with adhesive welded seams which make manual coin rolling easy. If you need a small volume of flat tubular coin wrappers, check with your financial institution – most banks and credit unions will purchase them in bulk and offer them to their customers for free as a courtesy.
Die-Cut Coin Boxes: It's also important to remember that banks may require you to bring your rolled coins in a cardboard coin box to make it easier for the tellers to handle them. This generally applies to deposits with volumes of 50 coin rolls or more. It may seem like a small detail, but it's key in avoiding the hassle of getting to the bank and being turned away because you've got too many loose rolls.
Plan Ahead and Purchase Efficiently
As is the case with purchasing many administrative items, it's wise to plan ahead and purchase efficiently. Running out of coin wraps unexpectedly can create a huge hassle, as you will need to re-order and wait – and hang on to a large volume of coins until your new order arrives. There are also economies of scale involved with buying in bulk, allowing you to save costs by purchasing larger quantities at once. At Northern Specialty Supplies, we offer warehousing solutions for our customers so that you can order in bulk, save costs, and have quick and easy access to your inventory whenever you may need it.
Picking and purchasing the right coin sorters, rollers, and wraps can seem daunting – but the right solutions can save you time and hassle. If you have additional questions on how to select the best money-handling solutions for your business, don't hesitate to contact us.
---