Thermal Paper Likely to be Affected by Leuco Dye Shortage into 2019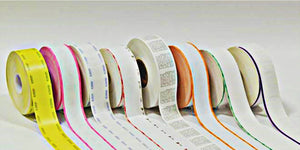 In the months since our last update on the leuco dye crisis which has been creating tidal waves throughout the thermal paper industry, there has been little in the way of positive progress towards a resolution and a correction in the market.
Industry Experts Predict the Squeeze Will Continue Through 2019
As the global leuco dye draught looms on, prices have continued to skyrocket, and with 2018 quickly winding to a close, paper converters and mills are still feeling the effects of a government crackdown that debilitated nearly 80,000 production facilities.
As chemical producers look ahead for a light at the end of the tunnel, speculations are growing that the squeeze may continue to be felt right through the first half of 2019.
As Its Preliminary Crackdown Concludes, the Chinese Government Eyes Further Action
At the end of March 2018, Chinese factories saw a brief opportunity to catch their breath as the emissions campaign led by China's Ministry of Environmental Protection formally concluded.
But while they seemingly had a moment of reprieve, that moment has been short-lived. The Chinese government is already well underway finalizing plans for tougher curbs on smog levels which will continue on until at least the end of 2020, bringing with them additional turbulence for factories.
Leading Leuco Dye Producer Connect Chemicals Regains Only Partial Operational Capacity
At the core of the leuco dye crisis is Connect Chemicals, the world's leading producer of leuco dye, which was shut down in late 2017.
Following its 3-month government-mandated shutdown, Connect Chemicals has reopened, but at a drastically reduced capacity – it is being constrained by as much as 50%.
In recent months, the industry has been abuzz with rumors that the Chinese government has made the prospect of reopening so daunting that the chemicals manufacturer strongly considered the possibility of shutting down its 3-month old plant and relocating to a country with lesser strict air pollution policies.
And while Connect Chemicals has regained partial operational capacity, a number of other key Chinese leuco dye producers have still been unable to reopen their doors.
Leuco Dye Supplements Have Been Unsuccessful in Tapering Price Volatility
As the thermal paper industry awaits much-needed solutions to stabilize the volatile pricing of leuco dye, there has been extensive research conducted on alternative chemicals. Although many chemicals have proven to be frontrunners as potential alternatives, none have come back as concrete solutions.
And while a potential alternative could serve to offset the shortage and reduce the overwhelming demand for leuco dye, industry experts speculate that it would likely make little difference on price.
In fact, there is a strong consensus that prices may never normalize to post-crisis levels as producers who find a suitable alternative to the highly sought-after leuco dye are unlikely to devalue their "gold" but rather will capitalize on demand and maintain a premium price point.
The Industry Will Remain in a State of Volatility and Instability Into 2019
While there is speculation on means by which this crisis might be curbed, there is still no definitive timeline for when – or if – the leuco dye shortage will end.
The Chinese government's commitment to further emissions crackdowns means that chemical manufacturers will be forced determine whether to adapt to the government's new emissions regulations or pack up shop and relocate to another country. And while international chemicals producers experiment with leuco dye alternatives, the popular prognosis throughout the industry is that there is no immediate end in sight.
As of now, all indicators are that the squeeze will continue well into 2019.
Paper Consumers Can Pad Themselves from the Ongoing Effects of the Leuco Dye Shortage
As the ongoing shortage continues, Northern Specialty Supplies has been taking all possible action to minimize the impact felt by our clients.
But with the industry still in a state of volatility and instability, inventory management is going to remain crucial for our clients. We recommend that paper consumers allow generous lead times on all orders and protect themselves from further price fluctuation by investing in a strong and steady inventory.
At Northern, we are proud to offer stocking support to ensure customers of any size can operate nimbly and cost-effectively. We provide the ability to store large volumes of product without taking on the expense and liability of a storage facility, in turn allowing for more consistent lead times on product orders.
To learn more about how Northern Specialty Supplies can help shield your business from the leuco dye shortage, contact us today.
---