From Clicks to Bricks: How Retailers Can Easily Maximize Revenue by Adopting Ecommerce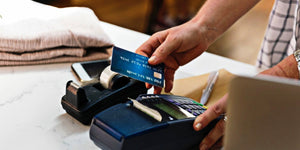 In today's digital age, the dominant narrative tends to be that ecommerce has eclipsed physical retail but that's inaccurate. If you look closely, you'll notice the true future of retail is far less polarized and much more balanced – it's omnichannel. Just examine the recent moves of massive online retailers. From Amazon to Warby Parker, the big digital players are opening brick-and-mortar stores.
Channel diversity is key to success in the retail landscape of the future and that's not just for national chains or ecommerce powerhouses. Retailers of all sizes can enhance their business by building a strong online presence. And the good news is that you don't need an army of engineers and data scientists to build a great online extension to your retail business.
But before we examine the "how," let's look at the "why" of going from bricks to clicks.
Competitive Edge and Driving In-Store Purchase Through Online Browsing
Consider for a moment a few startling stats. Only 28% of small businesses are currently using the internet to sell their products but 87% of consumers look for a product online before visiting the store and 35% do after they leave the store.
This means retailers lacking an online presence are limiting their exposure to consumers during two key moments in the sales cycle while those with an online presence are giving themselves a sharp competitive edge.
Expanding Brand Reach and Increasing Potential New Customers
An online presence means consumers researching products or services have a greater chance of finding your business and choosing you over a competitor. But it doesn't stop there. Imagine an out-of-town customer discovers your store, falls in love with your products, goes home and wants to buy more but can't travel to your physical store. An online presence allows them to. Now imagine they share your website with family and friends who become customers too without ever entering your shop.
Diversify Business Revenue Streams
Money talks. Revenue is priority. And limiting your revenue streams is a disservice to your business. An online presence allows you to diversify and put eggs in many baskets. More opportunity to purchase means more potential revenue.
Understanding the reasons why an ecommerce presence is important to your business' bottom line, let's look at how to execute it effectively.
Create a Seamless Online vs. Offline Shopping Experience
One of the most important factors in going from bricks to clicks is the translation of the shopping experience from in-store to online. It's crucial. And while a website is great, an app is even better. In fact, the number of unique visitors to Canadian retailers' mobile sites has jumped 13% since last year while desktop or laptop visitors have dropped by 11%.
Consider the User Experience When It Comes to Receiving Their Purchase
Online sales aren't as simple as bagging a product. Consider user experience when it comes to receiving their purchase – from packaging to shipping to how it reflects your brand. There are easy ways to enhance the experience, like customized poly mailers with your logo, brand and message for smaller products, or totes with secure, interlocking lids when shipping multiple items at once. If you're selling sensitive products, there are a ton of simple, cost-effective loss prevention and asset protection products available to ensure their integrity. Whatever your product, remember: the way your customer feels receiving and opening it is going to create a lasting impact and directly affect their repeat purchase decisions.
Build an Inventory Management, Shipping and Fulfilment Strategy
Omnichannel retail is an inventory management juggling act – taking one of the biggest challenges of bricks-and-mortar, amplifying it and adding a twist. If you understock, you risk angering customers and losing sales. If you overstock, you risk parking money in unsold product. And if your fulfillment process is inefficient, you run the risk of encountering delays and cancellations. In fact, overstocks and out-of-stocks cost retailers $1.1 trillion globally every year, averaging a combined total of 7.7% of all lost retail revenue.
A well-crafted inventory management, shipping and fulfillment strategy is key.
For certain business models, dropship fulfillment – taking a customer order at retail price, forwarding it to a supplier at wholesale cost, and having the supplier ship directly to the customer – is a viable option, but it doesn't work for all. For others, seeking economies of scale, purchasing larger volumes and warehousing overstock can reduce costs. It also helps avoid out-of-stocks by ensuring you've always got quick access to back-up inventory. At Northern Specialty Supplies, we offer warehousing solutions for our customers to ensure they've always got quick and efficient access to products without having to take on the expense of owning or renting warehouse space, in turn reducing costs through consolidated shipping and ordering.
Leverage SEO and Social Media
"I can be Googled, therefore I am." Not quite what René Descartes meant, but relevant. Search engine optimization and social media are two powerful tools to help retailers boost their online presence. In simple terms, SEO is the process of beefing up your web content with relevant common search terms to ensure you rank highest when potential customers search for what you offer – and it's an extremely powerful tool.
Social media is the new marketplace. In fact, according to Hootsuite:
60% of Instagram users discover products on the platform
75% of users take action – like visiting a website – after looking at a brand's post
Over one-third of Instagram users have used their mobile device to purchase a product
Expanding from bricks to clicks is a big move, but in today's digital world, it's vital to the success of traditional retail businesses. Bricks-and-mortar stores aren't going anywhere anytime soon but embracing an omnichannel approach will almost certainly be what sets apart the most successful retailers.
---