Key Factors in Ensuring the Security of Votes and Ballots in Ontario's Municipal Election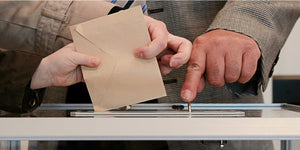 Electing political leadership is one of the most important actions that citizens can exercise. But with so much on the line, ensuring the security of the election system is of paramount importance. Even in the strongest democracies, electoral fraud is a real concern – including in our own backyard. And as Ontario heads towards its municipal elections in October of this year, the province has been forced grapple with both new and existing voting security concerns.
Online Voting? Ontario Municipalities Had to Decide
Technology is impacting our world in undeniable ways – and the election process is no exception.
Last year, online voting began to emerge as an option in Ontario and, in May 2017, over 400 municipalities voted on whether to allow online voting for the upcoming October 2018, election.
While some municipalities voted down the implementation of an online voting system, many allowed it in an effort to expedite the ballot counting process and increase voter turnout. For the regions in favor, the implementation of technology in the voting process has become an added complication to the already challenging task of ensuring the security of ballots.
Votes, Ballots, and Tabulators: Understanding Today's Election Process
In Ontario, the current election and ballot counting process include a mix of technology and traditional methods.
After a voter completes and submits their ballot, it is placed into a machine called a vote tabulator. This machine converts the ballot to digital data. From there, the digital data is loaded onto portable drives and transported to its final destination to be tallied.
While the process may seem simple enough, there are a number of important measures that must be implemented to ensure the security of not only the ballots and digital data, but the election equipment as well.
And with the addition of online voting, election officials now also need to be mindful of limited transparency as well as the possibility of votes being registered incorrectly.
Traditional Election Security is a Complex Undertaking
Each step of the election and ballot counting process requires attention and specialized security measures.
Even the vote tabulators must be intricately secured to avoid any form of corruption. Specialized security labels are placed on various parts of the vote tabulator to ensure it isn't tampered with in transit. Even inadvertent issues such as damage in transit could cause these heavy and awkward machines to malfunction, so specialized vote tabulator bags made of heavy canvas are used to insure safe transportation.
Once the ballots have been loaded onto portable drives, they are placed into sealable data pouches to be transported to where they'll be tallied. On both the tabulator bags and the data pouches, the zippers are designed to be sealed with a special one-time-use seal that will show evidence of any attempted tampering and are numbered and barcoded for logging and tracking.
Online Voting Makes Election Security Exponentially More Challenging
As online voting begins to make its way into the election process, additional security concerns begin to become prevalent, such as hacking and cyberattacks, data breaches and election servers which are actually located abroad. In fact, a number of Ontario municipalities have fallen victim to cyberattacks in recent times, including validating the authenticity of the risks and vulnerability presented by online voting.
With the implementation of online voting, municipalities will be required to put substantial effort into disaster response plans to deal with digital election fraud.
Traditional Voting Methods are Here for the Long Run
While technology is beginning to play a greater role in the election process, the debate about online voting and the reluctance of many municipalities to implement it demonstrates that traditional methods of voting and vote tallying will remain for the foreseeable future. This means that, while it's important to consider high-tech threats to election security, being mindful of traditional methods remains of paramount importance.
Northern Specialty Supplies was recently enlisted to provide voting security products for an Ontario municipality including vote tabulator bags, data pouches, seals and security labels. As a Canadian owned and operated business, we're proud to offer top-quality products which contribute to a fair, safe, secure and honest voting process.
---