How We Helped Canada's Wonderland Solve a Unique and Unexpected Challenge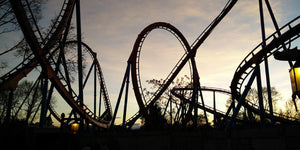 At Northern Specialty Supplies, we provide solutions for a wide array of industries. And one of the things we take great pride in as an organization is being able to help our customers find innovative solutions to their unique challenges.
When we were contacted by Canada's Wonderland, we had the opportunity to do just that.
Background: Key Things to Know About Canada's Wonderland
Located in Vaughan, Ontario, Canada's Wonderland spans 330 acres, making it the largest amusement park in the entire country. Welcoming nearly 3.8 million guests annually, it has been the most visited seasonal amusement park in North America for five consecutive years.
Canada's Wonderland has it all – rollercoasters, family rides, and even a full-on 20-acre waterpark filled with waterslides.
And that's where the challenge arose.
The Challenge: Ride Tickets Getting Wet and Becoming Invalid
Given the broad array of attractions at Canada's Wonderland, the park found itself facing a unique and unexpected challenge: its admission tickets were made of paper and didn't stand a chance against water. And as a result, the park's guests kept bumping into issues with their tickets getting wet at the waterpark, smudging, and becoming invalid and unscannable.
This was becoming problematic. Guests were consistently having to head back to guest services in order to get new tickets so they could continue visiting the park's attractions. In addition, reprinting tickets were using excessive amounts of paper, which was proving to be both wasteful as well as costly.
When we were contacted by Canada's Wonderland, they were in search of a solution that would alleviate this challenge. So, we worked with them to find a product that would help.
The Solution: Swapping Paper Tickets for Waterproof Polythermal Paper
When we heard about the challenges Canada's Wonderland was facing with their tickets, we quickly recommended that they move from regular paper to polythermal paper rolls.
These rolls are similar to regular ticketing rolls, but with one critical difference: polythermal paper rolls are completely waterproof. This meant that the park and its guests wouldn't have to worry about the ink smudging or running while they were at the waterpark and causing problems with being scanned and validated.
The Outcome: Less Reprints and More Happy Customers
As a result of making this simple switch, Canada's Wonderland was able to reduce the volume of reprinted tickets and frustrated customers they experienced as a result of wet tickets.
Our polythermal paper rolls were able to act as a cost-effective alternative to traditional paper and the challenges that the park was experiencing with it.
With Spring just around the corner, warmer weather is on the way. This means people will be getting ready to head out to amusement parks to enjoy a few thrills and some time outdoors. If your amusement park needs support with money processing and handling and ticketing solutions, get in touch with us. We specialize in amusement and gaming and are available to answer any questions you may have.
---