4 Tools to Help Businesses Stay Sanitary and Safe During COVID-19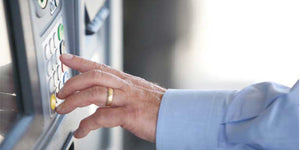 With the COVID-19 pandemic still having a heavy impact all across the world, a number of essential businesses remain open to serve the public and others are gearing up to re-open. 
But for the owners and employees of these businesses, constant interaction with and exposure to the public puts them at risk of contracting contagions.
That's why, now more than ever, it's important that businesses take extra precautions to keep their spaces sanitary to ensure the safety of the frontline workers going to work each day and providing such a valuable service. This is especially important in high-contact areas, such as POS terminals and ATMs. 
Here are four tools you can use to make sure you're keeping your business sanitary and your employees protected during COVID-19.
Screen and Keypad Cleaners 
With a reduced volume of cash transactions taking place due to the belief that it can transmit COVID-19, there's been a resulting increase in debit and credit card purchases. 
But this also means that POS terminals are being touched more frequently by customers and employees alike. So, it's vital to ensure these machines stay clean and sanitary.
This can be done with things like Ingrenico Screen Cleaning Wipes (Wet/Dry) and EZ Screen/Keypad Cleaning Wipes (Wet/Dry). These wipes offer dual cleaning to safely clean any pinpad, monitor, LCD, or plasma screen. They offer a wet wipe to clean and a dry wipe to remove any moisture or residue. 
Electronics Sanitation Wipes 
Your workplace is filled with electronics – from cash registers to keypads and even your employees' cell phones. 
While in normal circumstances, you and your staff may not give much consideration to how often these items are touched and handled, it's vital during this pandemic to pay extra close attention and be vigilant in cleaning electronics frequently.
Our Electronics Sanitation Wipes are a great all-purpose cleaner for all electronic touchpoint surfaces.
POS Card Reader Cleaners
The outside of your POS payment terminals isn't the only place that needs to be thoroughly cleaned. The inside of the card readers also needs to be cleaned, as well.
Consider the volume of cards your reader processes each day. Each of those cards has been handled by someone and then inserted into the reader. And each subsequent card purchase not only has the potential to contribute additional bacteria to the inside of the machine, it also transmits any bacteria that was already in the machine back onto your customer's card and into their hands.
With tools like the Waffletechnology Card Reader Cleaning Card, you can clean the read pins located inside all smart card, EMV (chip and pin), and magnetic stripe card readers.
ATM Cleaning Supplies 
While ATM use may be less frequent than usual due to a reduction in cash purchases, they're still a high-volume hub for hands-on contact and in turn are a high risk for coronavirus transmission. 
To keep them thoroughly clean, you can use tools like: 
DIEBOLD Metal Cleaning Card for ATM Smart Card (Chip) Readers

– With these heavy-duty smart card cleaners, you can get up to 52 cleanings of your ATM's card reader. Much the same way POS purchase machines can transmit bacteria, so can ATM card readers, so it's important to keep them clean. 

DIEBOLD Moist ATM Card & Chip Reader Cleaning Cards

– These single-use cleaning cards are moistened to help clean card readers even more thoroughly and their integrated magnetic strips enable electronic shutter opening as well. 

DIEBOLD ATM Screen Cleaner Pack

– These lint-free synthetic cleaners use a special anti-static agent to safely and thoroughly clean ATM screens and come with a dry wipe to remove moisture for a streak-free appearance.

DIEBOLD ATM Keyboard Cleaner Pack –

Similar to their screen cleaning counterparts, these synthetic pads are anti-static so you can safely wipe your ATMs keyboard and include special cleaning swabs to deep-clean between keys

ATM Sanitation Kits

– If you're looking for an all-in-one solution to keeping your ATMs clean, these kits come with everything you need, including a Smart Card Cleaning Card, an ATM Encoded Cleaning Card, a Bill Acceptor Cleaning Card, six Touch Point Sanitation Wipes, and six Dual Screen Cleaning Wipes.
If you've got questions about the best tools for your specific needs, just get in touch with us. We'd be happy to help guide you through the process of choosing the right ones.
And if you're in search of even more products to help protect frontline staff during this pandemic, we've recently launched a full line of COVID-19 response items to help keep people safe.
---