Case Study: How We Helped a Big City Police Department Enhance Its Evidence-Handling Practices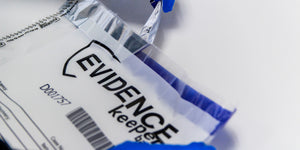 When it comes to police work, ensuring continuity in the chain of custody of evidence is critically important. 
Why?
Because the entire outcome of a criminal case can hinge on the integrity of evidence, which makes it a high-stakes undertaking making sure it isn't tampered with. 
The challenge? That's often easier said than done. Sometimes a police department's own equipment can cause problems with preserving evidence. 
And for one big city police department, that's a problem they were encountering. And one we were able to help with. 
The Challenge: Unreliable Evidence Bags Causing Problems with Evidence Handling
We were recently contracted by a major Canadian police department that wanted to improve their evidence packaging experience. 
The bags they had in use at the time were low-quality. They used a hot-melt adhesive which could be easily breached because they were not tamper-evident. 
With the chain of custody for evidence including not only law enforcement officials but also outside agencies – such as going to court for exhibit or being handed off to solicitors for review and inspection – this lack of security was unsettling.
In addition, the department was also experiencing issues with their evidence bags' fold-over closure. Because of the design of these evidence bags, it was at the discretion of the person collecting evidence to ensure the adhesive was placed in the right spot when closing the bag. If the bag was folded over too far, it could actually leave a gap that made the contents accessible.
And given that there's never a perfect time for officers to be collecting evidence – it could be rainy, in the middle of the night, or freezing cold – this made for an added element of difficulty when it came to adequately sealing the bags.
After all, for officers collecting important evidence, the last thing they need to be worried about is whether they're sealing their evidence bags properly.
This was a frustrating problem to have, but a problem all the same. And that's where we came in. 
The Solution: Customized Tamper-Evident Bags to Take the Guesswork Out of Handling Evidence
When we first got in touch with this police department, they explained the challenges they were having, and we quickly identified a solution to meet their needs.
We recommended that they try our tamper-evident bags as a solve for all of the challenges they were having. 
These bags would offer solutions to a number of their challenges with features like:
Tamper-evident properties including a void message that's displayed if the bag is compromised 

Large, legible dual sequential serial numbers that include a tear-off receipt for easy referencing

Bar codes that allow for easy logging of evidence into their systems

Tamper-resistance against chemicals as well as changes in temperature

Dual-security side-welds with patterned printing that prevents access to the bag from the sides

Anti-static foil release liner on the adhesive which means officers won't have to worry about the adhesive strip sticking to clothes, skin, or other materials when collecting evidence as well as making it foolproof to seal the bags properly
We were also able to fully customize their evidence bags to include their department's crest as well as department-specific fields for writing on the bags. On top of that, they required D-Size bags, so we were able to add their volume to our existing production run and get them a better deal.
This police department now uses evidence bags that meet and exceed all criteria for evidence handling.
If you've got questions about the best evidence bags for your needs, don't hesitate to get in touch with us. We have our own brand of evidence bags in stock, so if you need evidence bags without customization, we can leverage our stock product so that you can get better bags without the need for high volumes or high costs. You even can purchase as few as 100 bags as a trial.  
Our experts are here to help!
---