7 essential tips for buying the right retail point of sale supplies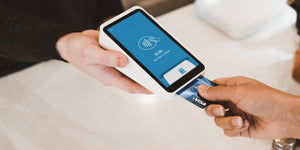 In the retail industry, point of sales stations are one of the most important aspects of your business. That's because, once your customers have come in, browsed around, and selected the goods they want to buy, your POS station allows you to finalize the sale and, most importantly, collect payment for your products.
A well-managed POS station isn't just a benefit. It's a business necessity because problems at the point of purchase can cause customer frustration and even compromise the sale. That's why the retail POS supplies you purchase are so vitally important.
Here are 7 essential tips for buying the right retail point of sale supplies for your business.
Replace Cash Trays When They Start to Break Down
Even though it can be easy to do so, never overlook the necessities. It's important to maintain your POS equipment, especially your cash trays. It's key for currency to be securely held during business operations and the cash tray is where it gets held all day.
Customize Your Receipt Paper
The receipts you hand out are one of the most cost-efficient marketing tactics you can implement because they communicate a renewed brand impression to your customer, even once the sale is completed. This is why it's so important that you customize your POS rolls. Your receipts should include things like your logo, website, trademarks, additional services offered, claims and return policies, coupon codes, promotions being run, event advertising, watermarks, and security features, and any other marketing features you can think of. At Northern Specialty Supplies, we can customize your POS rolls and receipt paper in almost any way imaginable.
Keep an Extra Stash of Customized Retail Bags Handy
The value of branding your receipts also extends to the bags you hand out to your customers. A well-designed bag featuring your logo, colours, and messaging helps extend the customer's experience and engagement with your brand well beyond the purchase. And, plus, what's more frustrating for a customer that making a big purchase then realizing the store has run out of bags for them to carry it with? At Northern Specialty Supplies, we offer high-quality, fully-customizable, recyclable and reusable retail bags.
Don't Overlook the Importance of Deposit Bags
In a retail environment, your POS station doesn't end at the counter – it extends to your safe as well. You need to consider what happens to the cash you accumulate from sales, both throughout the day and when it's time to close up shop. It's important to have a protocol on how much cash to keep in the till, and to know how and when it's being transported to and stored inside the safe. For instance, one great robbery prevention tactic is to make employees aware of the amount of cash to keep in the till as a float and, each hour, put the overage in a tote bag and drop it in the safe. You should keep a few deposit bags on hand to ensure your staff are able to effectively manage the cash in their till.
Equip Your POS Station with Counterfeit Detectors
While digital currency is steadily on the rise, the retail industry still deals heavily in cash, making counterfeit protection an important aspect of everyday operations. You should make your staff aware of the real risk of counterfeit currency and equip them to properly detect it. The good news is that this doesn't have to be a complex process – at Northern Specialty Supplies, we offer a wide array of counterfeit detectors, including simple devices that offer a pass or fail response when scanning currency. And if you're interested in learning more about how you can protect your business from counterfeit currency, check out our blog article on the topic.
Make Sure You Maintain Your Equipment
Anything that is used on a frequent basis is subject to regular wear and tear and will require ongoing maintenance and care to remain functional. Your POS equipment is no exception and it's important to keep it in good condition. For instance, the thermal print heads in your POS printer can get dirty, which in turn can compromise the appearance of the branding on your receipts. Your card readers also get dirty, which can create frustrating problems for customers trying to make a payment. Make sure you keep equipment cleaning and maintenance supplies, such as air dusters, cleaning wipes, and card reader cleaners handy so you can care for your equipment on an ongoing basis.
Ensure You've Always Got Quick Access to Retail POS Supplies
While retail operations can be forecasted, those predictions are not always set it stone. You may encounter an unexpected busy period and use up more of your POS supplies than you anticipated. That's why it's important to ensure you have fast and easy access to all of your POS supplies. At Northern Specialty Supplies, we offer warehouse services so that you can order your POS supplies in bulk without having to allocate money-making retail space to storing them. This, in turn, saves you money by allowing you to purchase larger quantities and means you've always got fast and reliable access to restock supplies, whenever you need them.
A well-managed POS station is critical to the success of every retail location. By keeping the right point of sale supplies on-hand, you can help ensure a seamless experience for your customers, your staff, and your business.
At Northern Specialty Supplies, we offer a diverse array of retail solutions for any need. To learn more, or if you have questions about the right POS supplies for your needs, don't hesitate to get in touch. We're here to help!
---