Here's Why the Right Citation Paper Can Save You Money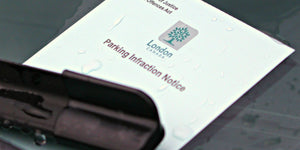 If you work in parking enforcement and you're using low-grade citation paper, there's a good chance you're losing money for no good reason.
However, this is completely preventable. And there's a simple and cost-effective solution to do it.
Citation Printers Take a Beating
Take a look at what citation printers go through during the normal course of business. They take some pretty steady wear-and-tear, riding around on a parking enforcement officer's belt, exposed to the elements.
And even on the best of days, these small portable printers can be finicky, often offering frustrating challenges when it comes to printing out citations.
In order to do their jobs properly, these printers need all the help they can get.
Poor Citation Paper Empowers Ticket Disputes
Two of the most common disputes when it comes to parking tickets are that the ticket was illegible, or the ticket was damaged.
An illegible ticket can be caused by a citation printer malfunction or, worse yet, that a parking enforcement officer actually had to take the time and effort to write the ticket by hand because of a printer issue. Using a Thermal Print-Head Cleaning Card can add a lot of clarity to the thermal imaging.
Damaged tickets can be the result of any number of things. The ticket could have been printed on water-soluble paper that got wet causing the ink to run or the paper to disintegrate, or it could've simply gotten ripped.
Sometimes people even want to pay their parking tickets but don't end up doing it because they can't understand what's written on them.
But whatever the reason, one thing is for sure: tickets that are unpaid or overturned due to illegibility or damage are costing parking enforcement agencies a fortune.
And worse yet, it's usually caused by a problem that could be inexpensively fixed.
With Low-Grade Citation Paper, the Writing is On the Wall
When you equip your citation printers with low-grade paper, you're opening yourself up to an increased likelihood of issues with legibility or damage.
Many commonly used citation papers are low-quality, susceptible to printing issues or damage of all sorts.
And often, low-grade paper is used in order to cut back on the cost of the rolls.
But in saving a small amount of money on rolls, parking enforcement agencies may ultimately be sacrificing significantly higher volumes of revenue due to illegible or damaged parking tickets that don't get paid.
And by upgrading to a higher-grade citation paper, you can alleviate a huge amount of these issues at a relatively low cost.
By saving one overturned or unpaid ticket, you'll have paid for the roll it was printed from many times over.
The Best Type of Parking Citation Paper
When it comes to picking the right citation paper, your best bet is to opt for an upgrade to polythermal citation paper rolls.
This ultra-durable type of paper helps to drastically increase the visibility and legibility of parking tickets– one of the biggest battles in ensuring tickets get paid. And it's also extremely challenging to rip or damage.
Whether you're looking for parking ticket rolls, multi-part ticket books, or E-Citation paper rolls, you'll find a comprehensive selection of high-quality options available from Northern Specialty Supplies. We take great pride in providing parking enforcement agencies with top-tier solutions that help them save money and work more efficiently.
To learn more, or if you have additional questions, get in touch with us.
---